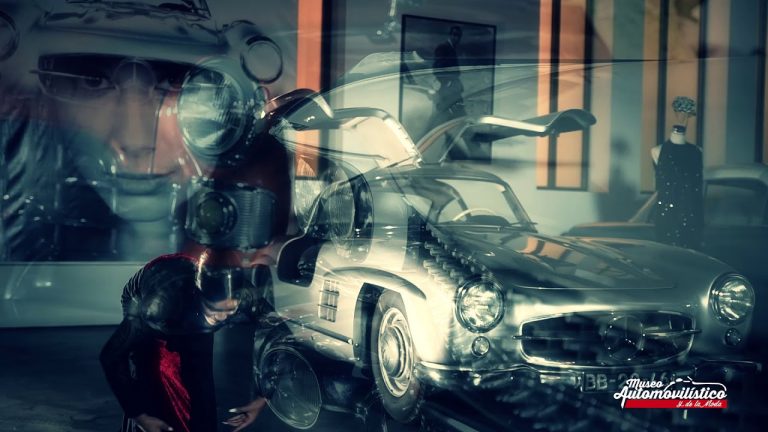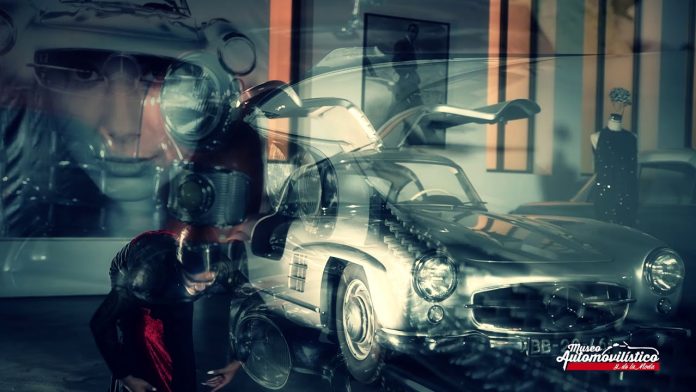 The Automobile and Fashion Museum of Malaga is located in the former building of the Royal Tobacco Factory, known as La Tabacalera.
The building covers approximately 7,000 square meters and houses collections of classic cars, haute couture, and contemporary art.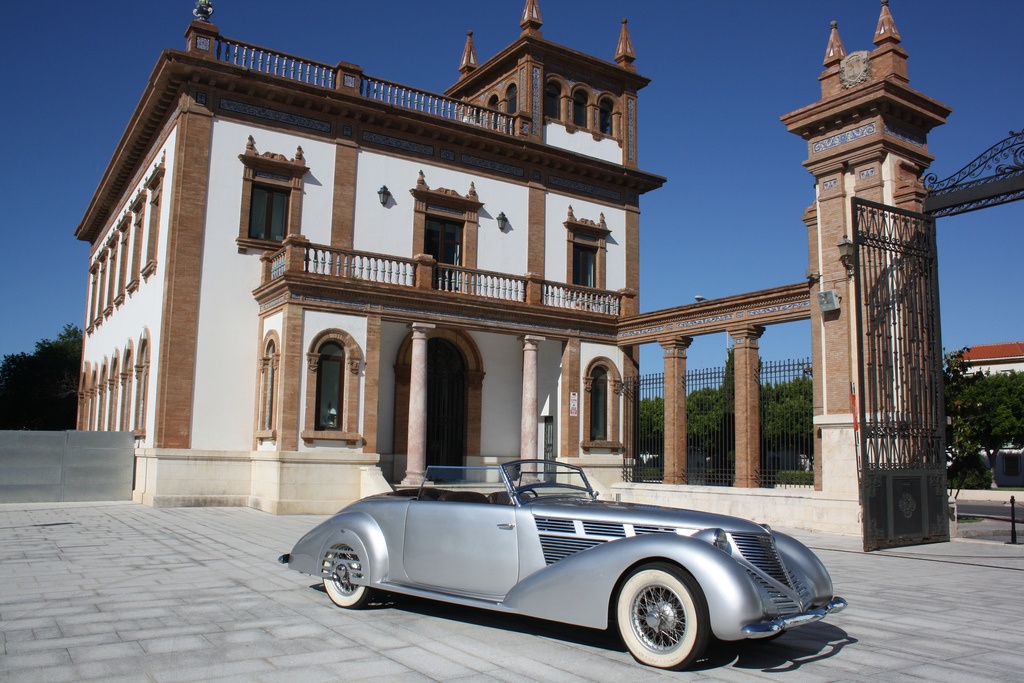 History of the Automobile Museum, a Unique Museum in the World
The construction of the former tobacco factory, La Tabacalera, dates back to 1927. His rehabilitation works of this building for the establishment of a museum dedicated to the automotive industry began in 2008 and lasted until 2010 when the museum was inaugurated.
The idea was driven by the Portuguese collector Joao de Magalhaes, who showcased a significant part of his collection of classic cars in the museum.
What Cars Can We See at the Automobile Museum of Malaga? The Collection.
The Automobile Museum of Malaga's car collection features over 90 restored vehicles on display, ranging from cars dating back to 1898 in the late 19th century to futuristic vehicles with alternative energy sources.
This collection is organized into different thematic spaces, ranging from the "Belle Époque" period in 1914 to Art Deco, dream cars, English tradition, tuning, eccentricity, popular cars, and alternative energies.
Among the cars in the collection, you can find a Winner Usa from 1898 (the oldest), a Richmond from 1907, also known as the picnic car, of which only two exist—one in Virginia and one in Malaga. There's also a Delage from 1912 featuring the famous mother-in-law seat. Additionally, you can see a 1932 Renault Nervastella inspired by Salvador Dalí, a 1936 Cord, a 1936 Mercedes-Benz 540K used by the Nazi authorities and valued at over €700,000, a 1936 Auburn Speedster, a symbol of Art Deco designed by Gordon Buerig, a 1947 Tatra, a 1955 Fuldamobile, known as "the egg," and a 1955 Fiat Topolino, among many others.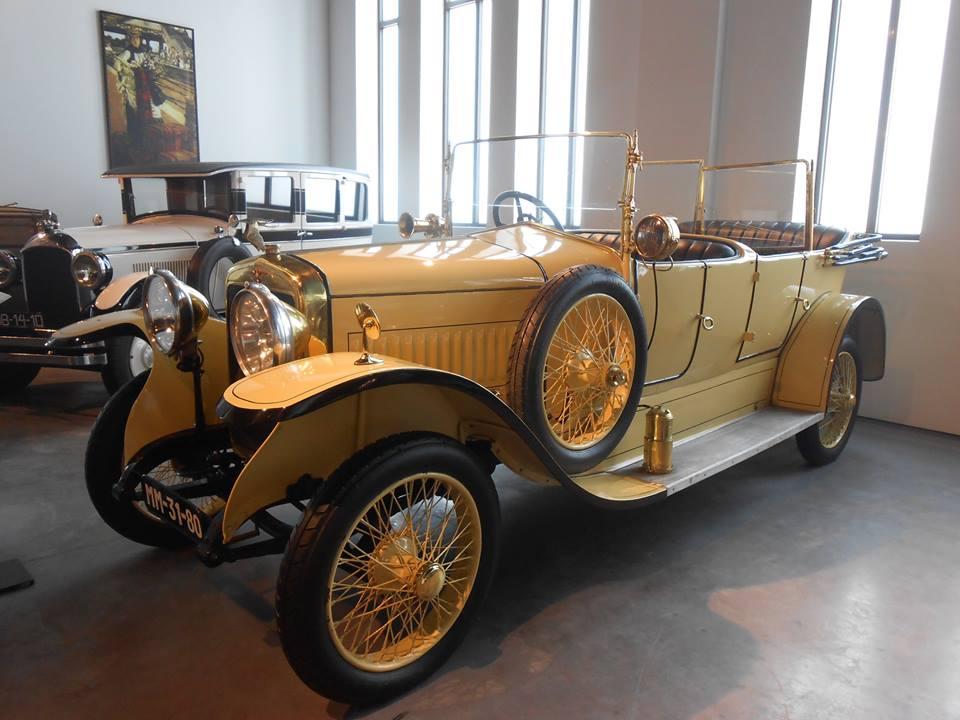 Among the most futuristic and alternative energy vehicles, you'll find a steam-powered car from 1910, an electric car from 1916, a propeller-driven car from 1932, a solar-powered car named "The Spaceship" from 2009, and a prototype of an eco-friendly hydrogen-powered car.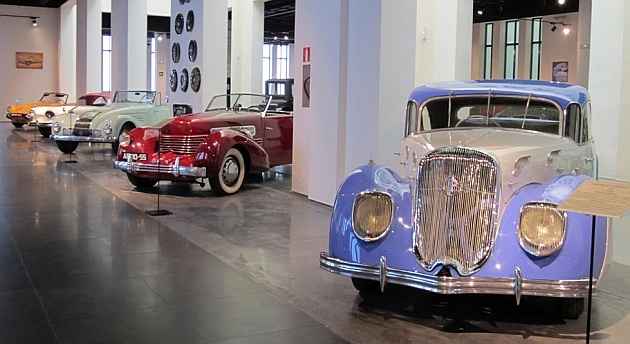 The collection also includes models from major brands such as Hispano Suiza, Bugatti, Delage, Packard, Auburn, Rolls Royce, Bentley, Jaguar, Mercedes, Ferrari, Lancia, among others, as well as emblematic pieces such as decorative elements, accessories, engines, and custom-made features, including ostrich and mink leather upholstery, precious woods, mother-of-pearl dashboards, rims, horns, ivory handles, and customized engines.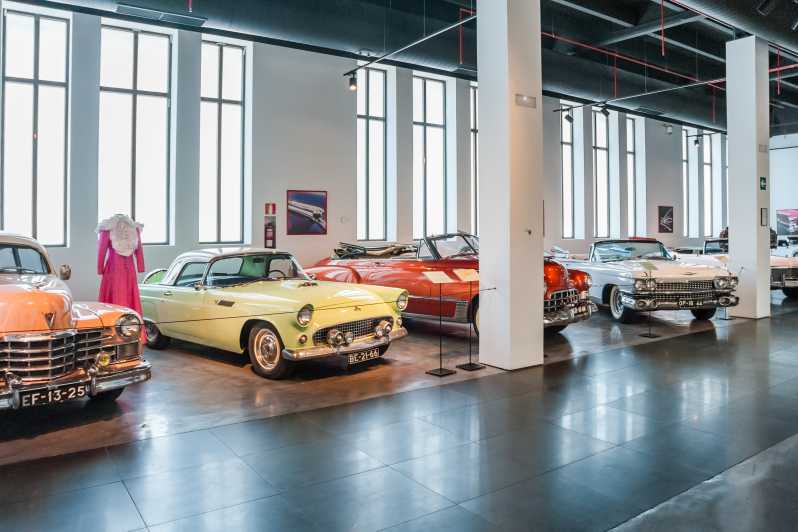 High Fashion and Hat Collection at the Automobile and Fashion Museum of Malaga
In addition to the vehicle section, there is a high fashion section that showcases more than 300 pieces, including vintage hats, hatboxes, and vintage suitcases from luxury brands such as Chanel, Dior, Givenchy, and Prada.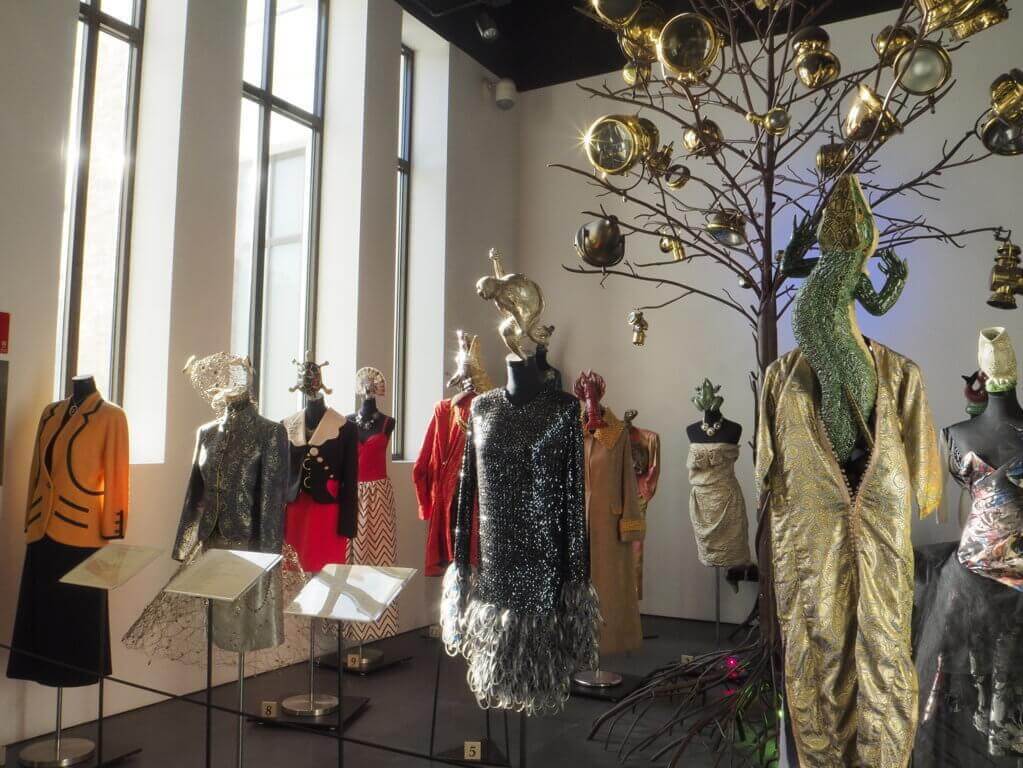 The fashion section showcases the evolution of haute couture in the 20th century through seven exhibitions: "From Mariano Fortuny to Galliano," "Trilogy," "El Cóctel de la Floresta," "From Balenciaga to Schiaparelli" (a collection of vintage hats spanning from the 1920s to the 1950s), "Fashion Victim," "Apoteosis," and "Too Much is Never Enough." It's a glamorous display not to be missed.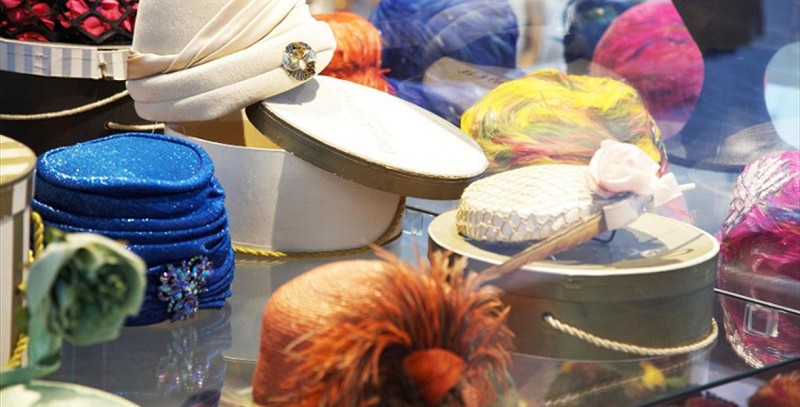 The museum also features a contemporary art exhibition with artworks created using elements such as headlights or wheels.
Events at the Automobile and Fashion Museum of Malaga
The museum also houses large event halls where various types of celebrations can take place, including corporate and social events.
With a capacity for over 3,000 guests, the venue is suitable for launches, conferences, themed lunches and dinners, fashion shows, as well as birthdays, communions, weddings, and any other type of celebration.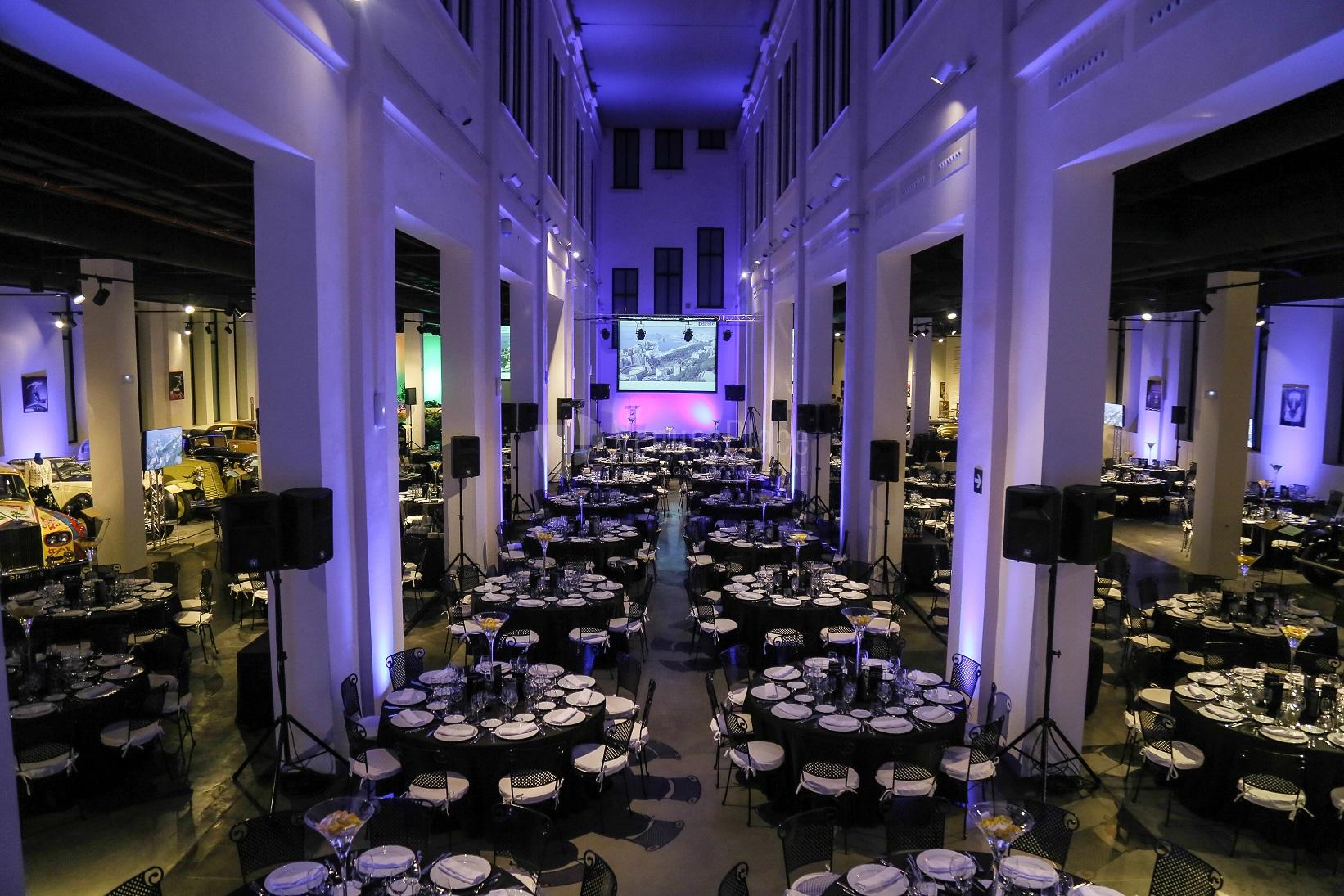 Contact Information
Address: Avenida Sor Teresa Prat, 15, 29003 Málaga (Recinto del Edificio Tabacalera)
Phone: +34 951 137 001
Email: info@museoautomovilmalaga.com
Web: http://www.museoautomovilmalaga.com/es
Opening Hours
Monday to Sunday from 10:00 a.m. to 7:00 p.m.
Prices
€9.50 for adults, €5 for students and unemployed individuals, and €7 for seniors and pensioners.
How to Get to the Automobile and Fashion Museum of Malaga?
To reach the Automobile and Fashion Museum of Malaga, you have several options:
Public transportation: You can use Malaga's public transportation system to reach the museum. Several bus lines have stops near the museum. You can also use the metro service, with the nearest metro station, "Princesa-Huelin," located within walking distance of the museum.
By car: If you prefer to drive, please note that the center of Malaga may have narrow streets and limited parking. However, there are several public parking lots near the museum where you can leave your vehicle.
On foot: If you are in the center of Malaga, a convenient option is to walk to the museum. Follow the directions to Avenida Sor Teresa Prat, and you will find the museum on Compañía de Jesús Street.
Taxi: If you want a faster and more convenient option, you can take a taxi to the Automobile and Fashion Museum. Taxis are available at various locations in the city, and they will take you directly to the museum.