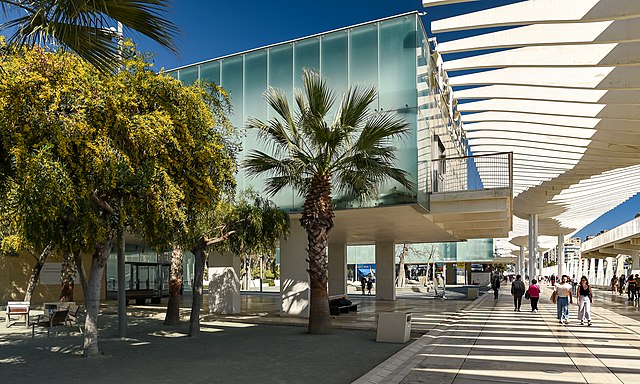 The Palmeral de las Sorpresas is a peaceful corner located in the heart of Málaga, which has become a true gift for its residents and visitors. This oasis of tranquility was inaugurated in 2011 and is located on pier 2 of the city's port, where old silos once stood. With an area of 20,000 square meters, this space has been transformed into a place full of charm and serenity, highlighted by its nearly 400 majestic palm trees that give it its name.
A Stroll Among Palm Trees
This green corner is a genuine oasis amidst the urban bustle. Its palm trees are aligned in meticulously designed patterns, creating a sense of serenity and order. You can take a tranquil walk among these palm trees, enjoying their shade on sunny days and listening to the gentle rustle of the leaves when the sea breeze caresses them.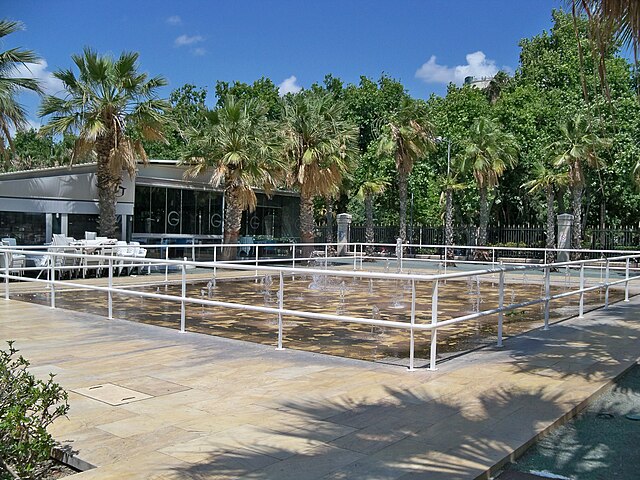 A Multifaceted Space
In addition to being a place for relaxation and contemplation, the Palmeral de las Sorpresas also houses a building dedicated to a passenger terminal for cruise ships, as well as two cultural buildings. Two kiosks-bars offer refreshing drinks and snacks for those who want to enjoy a meal by the sea.
Free and Open to the Public
The best news is that entry to the Palmeral de las Sorpresas is completely free. So you can enjoy this haven of peace without worrying about costs.
Views of the Sea
One of the most outstanding features of the Palmeral de las Sorpresas is its view of the Mediterranean Sea. As you walk along the promenade, you can enjoy stunning panoramic views of the sea, with the sound of the waves as background music. It's the perfect place to sit on one of the benches and gaze at the horizon, whether just to relax or to enjoy a quiet conversation.
Space for Everyone
Fun for the Little Ones
This space has been designed to be inclusive and welcoming to people of all ages. The little ones can have fun in the play area, while adults can explore open-air art exhibitions or simply relax in specially designed areas to unwind and enjoy the ambiance.
Easy Access
An additional advantage is that the Palmeral is easily accessible. You can reach it with a short walk from the city center or by using public transportation. Its strategic location makes it convenient for all visitors.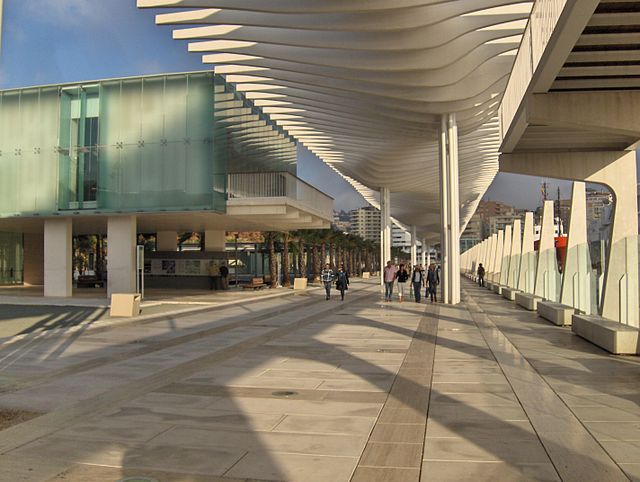 Local Flavors
If you get hungry during your visit, don't worry. The Palmeral de las Sorpresas has nearby kiosks where you can try local delights. From fresh seafood to traditional tapas, here you can satisfy your taste buds with authentic Málaga flavors.
Cultural Events
The Palmeral de las Sorpresas also comes to life with regular cultural events. From open-air concerts to craft markets, there's always something exciting happening here. Check the local schedule to see if there are any special events during your visit.
Perfect for Photography: Capture Special Moments
If you're a photography enthusiast, you'll find countless opportunities to capture memorable moments in this place. The tall and elegant palm trees create a visually stunning structure, and the sculptures and design elements add an artistic touch to your photos.

A Corner that Restores Málaga's Relationship with the Sea
The Palmeral de las Sorpresas holds a special significance for Málaga. For decades, the industrial port created a gap between the city and the Mediterranean Sea. However, this space has reestablished the connection between the community and the Mediterranean Sea. Its design, with an isotropic pattern of palm trees and a pergola parallel to the pier, allows the city and the port to integrate harmoniously.
Mediterranean-Inspired Design
The design of the Palmeral is inspired by the ancient agricultural estates of the Mediterranean. Palm trees are distributed in patterns reminiscent of traditional cultivation plots, creating a sheltered microclimate. Each "plot" of palm trees is treated as a unique garden, with different plantings and textures, creating a diverse and attractive environment.
The Pergola: An Iconic Element
The pergola is another iconic element of the Palmeral. It runs along the waterfront, providing shade to visitors. Its design is modern and avant-garde, with a variable-height metal box beam that stretches for 400 meters. Over 200 white reinforced concrete slats hang from the pergola, creating a fascinating interplay of light and shadow.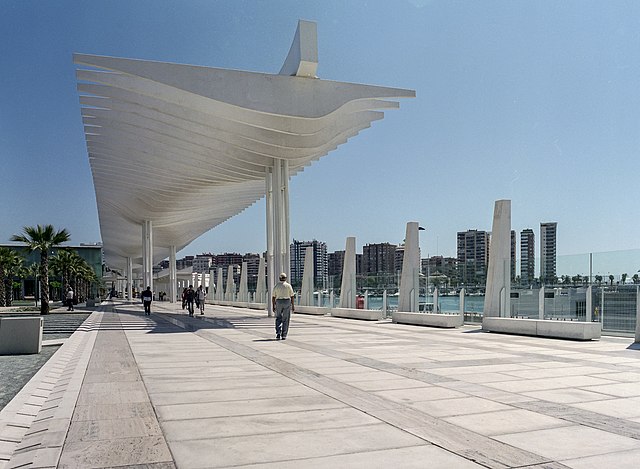 The Palmeral de las Sorpresas is a gem nestled in the heart of Málaga. It's a space that brings together nature, culture, and tranquility amid the bustling city. Whether you're seeking a spot to relax, immerse yourself in local culture, or simply take a leisurely stroll by the sea, this corner offers all that and more. Don't miss out on it during your next visit to Málaga! 🌅🌴😌