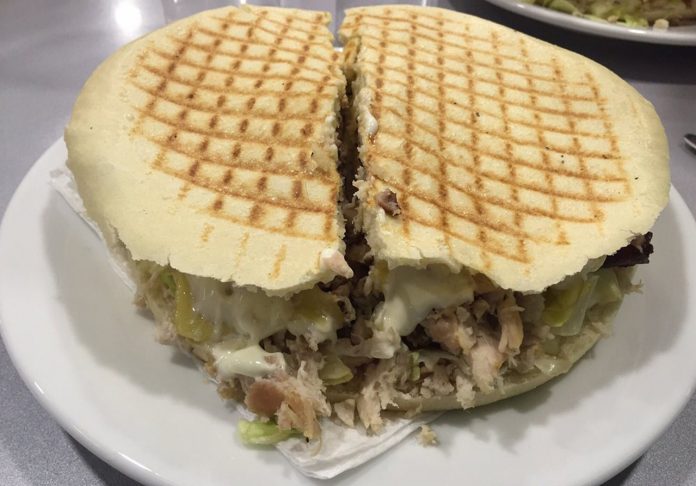 There may still be someone who doesn't know what the Malagan campero "campero malagueño" is, but don't worry, we'll explain here what it is and where you can find the best ones in Malaga.
What is a "campero"?
The Malagan Campero or colloquially "campero," is a typical dish in Malagan cuisine that can be found in all burger joints in Malaga. It's a simple and delicious dish that is one of the most famous and consumed when it comes to fast food.
It is nothing more than a circular-shaped bread sandwich, very similar to the well-known "mollete" from Antequera, known as the "campero" bread, to which a series of ingredients are added and then toasted on a grill, hence its characteristic toasted marks.
Who invented the "campero" in Malaga?
The "campero" was invented by the hamburger chain Los Paninis back in 1977, who thought of filling a circular-shaped bread roll with Mediterranean diet ingredients.
It was in the 1980s, thanks to hamburger chains such as Los Paninis, California, Mafalda, all of which are now considered local culinary landmarks and some of them are still open today, that this delicious sandwich became popular in Malaga's gastronomy.
And that's how it's widely recognized, "Los Paninis", which are currently closed, invented this sandwich that many others copied and started offering in their burger joints and cafes..
What are the ingredients of the magnificent "campero"?
Originally, the "campero" was made with ham, cheese, lettuce, tomato, and mayonnaise, although nowadays there are multiple varieties of "camperos," and they can be filled to the consumer's liking.
The characteristic ingredients of the "campero" are the circular-shaped bread, mayonnaise, tomato, and lettuce, and along with them, whatever we want, chicken, bacon, tuna, omelet, hamburger, pork fillet, and many more. And an important step once we have all the ingredients is to toast it on the grill.
And now that you know what the "campero" from Malaga is, the best way to truly know what we are talking about is to go try it.
Surely you will love them!!
Where can we eat the best camperos in Malaga?
It's common to find them on the menu of any burger joint or café on the Costa del Sol, at a very affordable price.
Now that you know what it is, you'll surely want to try this wonderful sandwich. Here are the best places to eat a campero in Malaga.
MAFALDA
Open since 1982 on Pedregalejo beach promenade, 71, where you can enjoy a delicious campero right on the beach. They offer a wide variety of camperos on their menu. Among their camperos, we highlight: the "Super" with egg and bacon, the "Campero de pinchitos," and their majestic "MAFALDÓN," a large campero with the essential ingredients and also including French omelet, bacon, and chicken. We assure you that you will love it.
BOCATAS JUANMA
Located at Camino del Pato, 25 in Las Pirámides, don't miss the CAMPERO SÚPER.
BURGUER ELADIO CAMPERO
On La Bohème Street, 8. Open since 1983. If you're a big eater and want to try a good campero, we recommend the CAMPERO SUPREMO ELADIO, which includes: ham, cheese, lettuce, tomato, mayonnaise, ketchup, mustard, foie gras, French omelet, hot dog cubes, and grilled goat cheese. Wow, quite a mouthful! But don't worry if it seems like too much, there are many other types of camperos available.
BURGUER LOS TILOS
At Edison Street, 13, Paseo de Los Tilos. You cannot miss the CAMPERO TAYLOR, it's just amazing. You can check their menu here.
BURGUER MORTADELO
At Calle Capulino Jáuregui, 7, Huelin. Open since 1986. The CAMPERO DE ATÚN is spectacular.
BURGUER MARUCHI
At Calle Quitapenas, 111, El Palo, the CAMPERO ESPECIAL CON PIMIENTOS.
BURGUER PARRILA
At Plaza Montaño, 3, in the heart of Malaga, we recommend the CAMPERO DE LA CASA, you will love it.