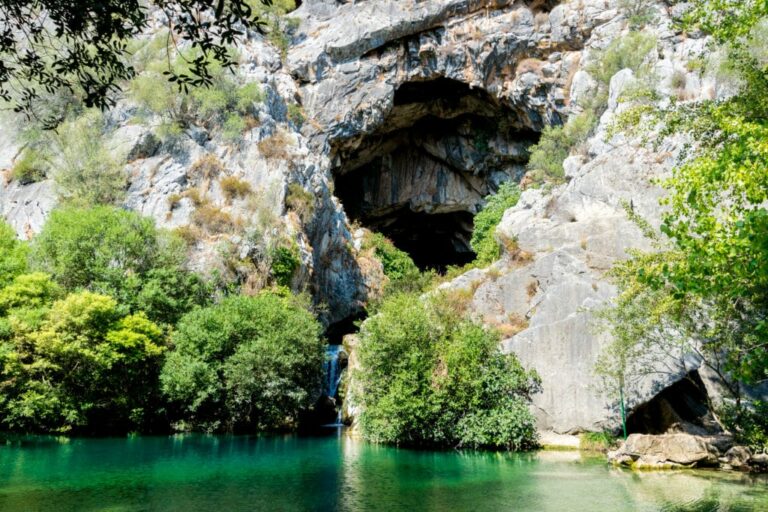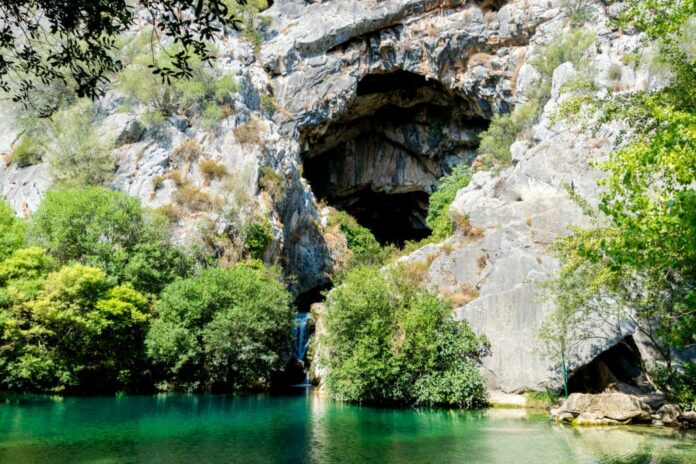 If you're a nature lover and passionate about outdoor adventure, don't miss the thrilling hiking route from Benaoján Train Station to Cueva del Gato in the Guadiaro River Valley, just a few kilometers from Ronda. This spectacular trail takes you through stunning landscapes and allows you to explore one of the most amazing natural wonders in Málaga.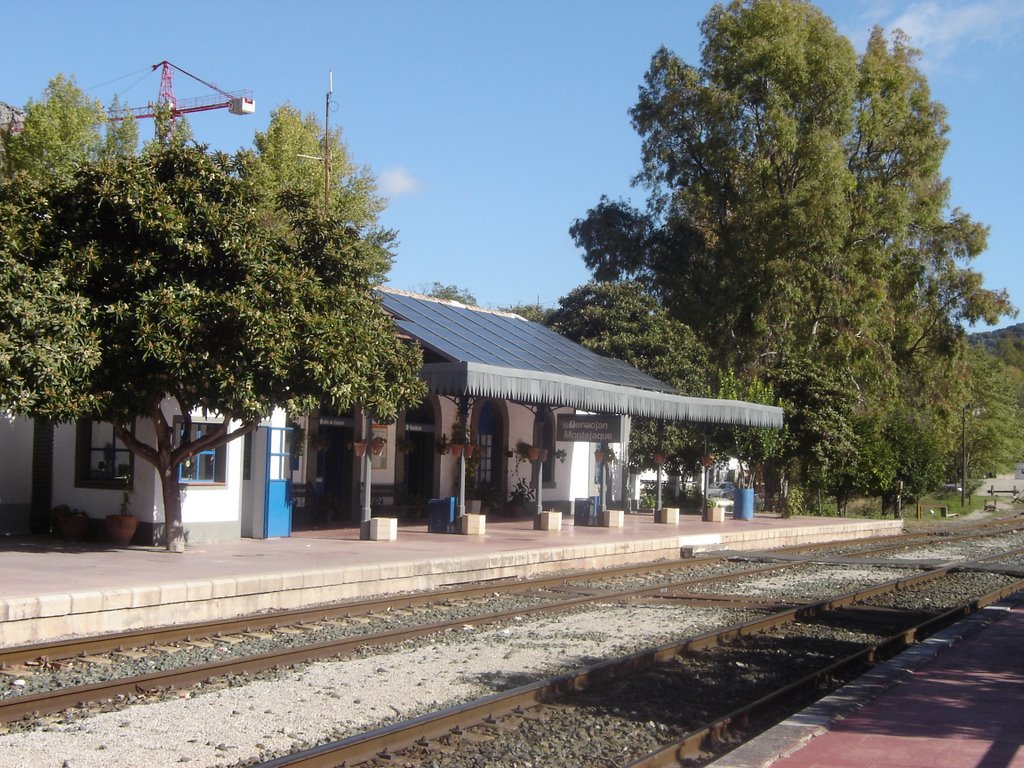 Uncover a Hidden Gem in Sierra de Grazalema
Immerse yourself in a journey of discovery as you venture into the Guadiaro River Valley, on the border of Sierra de Grazalema Natural Park. This route offers the opportunity to explore a unique and breathtaking natural environment, filled with beauty and serenity.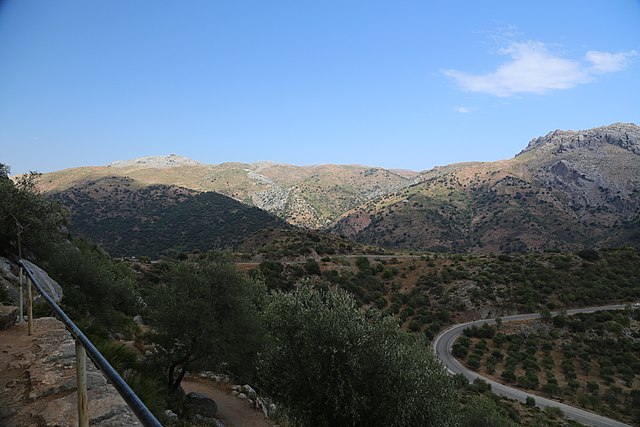 Unveil History Along the Way
During the hike, you'll have the chance to discover ancient mills that line the river. These mills bear witness to the area's historical past and transport you back in time. You'll also pass along a medieval path that once belonged to ancient Rome, adding a touch of history to your hiking experience.
Observe Diverse Wildlife and Waterbirds
The Guadiaro River Valley is a natural habitat for a variety of waterbirds and riverside species. During your hike from Benaoján Train Station, you can spot various waterbirds and riverside species in their natural habitat, such as herons, cormorants, nightingales, and many other fascinating birds, adding a special touch to your hiking experience.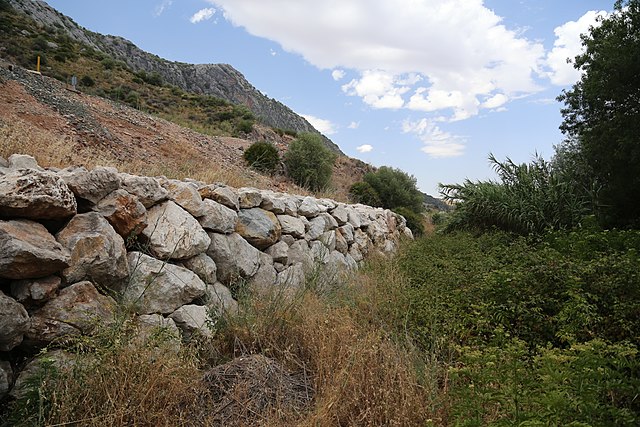 Don't forget to bring your binoculars to enhance your birdwatching experience.
The Route along the Trail to Cueva del Gato
The route from Benaoján Train Station to Cueva del Gato offers a unique experience along approximately 2 kilometers.
This exciting, well-marked, and signposted trail begins at Benaoján Train Station, taking you through breathtaking scenery that runs parallel to the Guadiaro River, revealing a hidden natural gem in the heart of Málaga.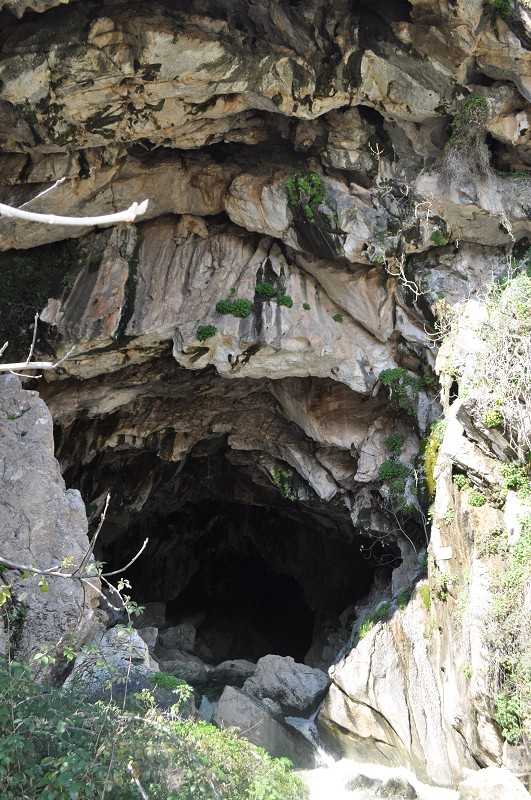 The hiking route from Benaoján Train Station
As you start the route, you'll come across the fascinating Charco de la Barranca, formed by a concrete dam with pivots in the river. Its serene beauty invites you to stop and enjoy this little haven of tranquility.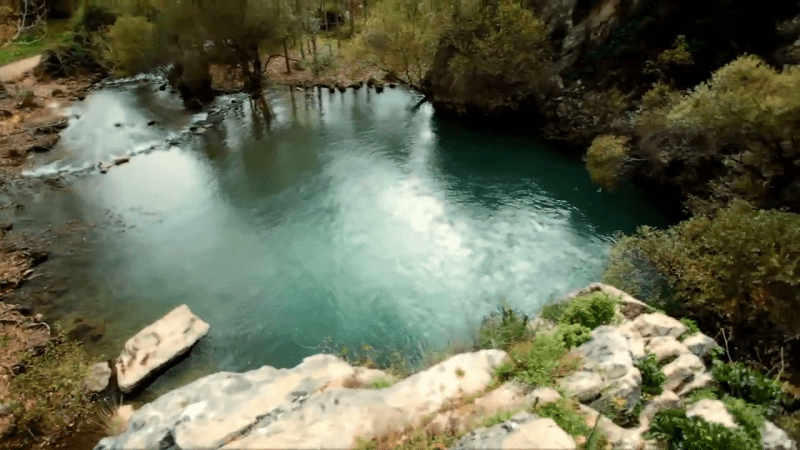 Continuing on, you'll encounter the Arroyo de la Torre del Moro, which provides a beautiful landscape as you cross it. Following the path, you'll reach Molino de las Cuatro Paradas, an ancient mill that has managed to preserve much of its original structure. Its presence transports us to bygone eras and allows us to appreciate the historical significance of this place.
A short distance away, you'll be amazed as you cross a wooden bridge suspended just above the crystal-clear waters emanating from Cueva del Gato, located right in front of Hotel Cueva del Gato, offering a privileged view of the natural surroundings surrounding the cave. It's the perfect spot to pause, admire the scenery, and rest in the shade of the trees lining the river while delighting in the refreshing cold waters of the pool.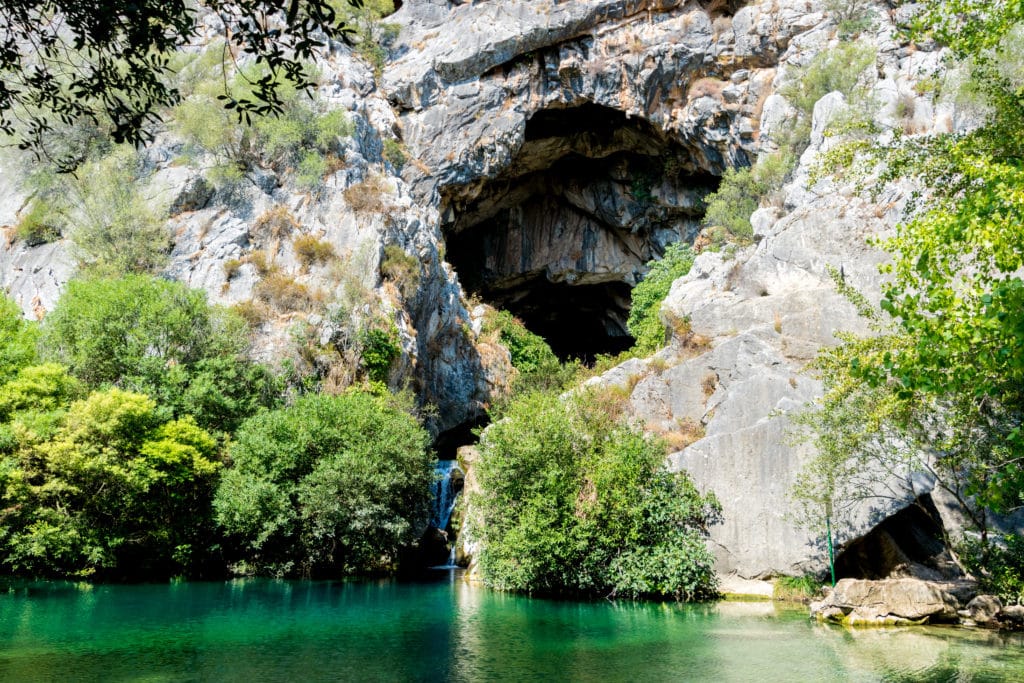 At this point, our hiking route from Benaoján Train Station to Cueva del Gato concludes, as we encounter a sign informing us of the prohibition to proceed beyond the cave entrance due to safety concerns.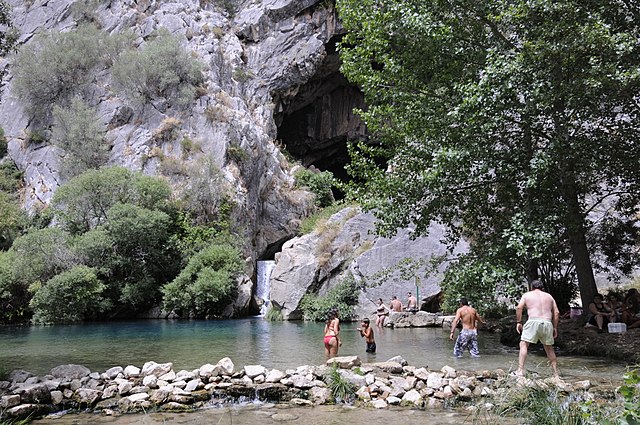 Explore the Mysterious Cueva del Gato and its Magical Surroundings
The final destination of this exciting route is Cueva del Gato, a natural monument that will leave you speechless. This cave is a natural spring with crystal-clear waters that are part of the Guadares River and flow into the Guadiaro River.
A Natural Monument with a Unique Entrance and Dazzling Beauty
Venture into Cueva del Gato and be amazed by its magnificence. With an entrance resembling a cat's face (hence its name), this cave invites you to explore its mysterious corners. With a width of about 17 meters and a height of 25 meters, you'll feel small in comparison to the grandeur of this place.
It is a spring with permanent waters, creating paradisiacal river pools. The water enters through an infiltration in the Hundidero Gorge and exits through Cueva del Gato, about 4 kilometers away. This is known as the Hundidero-Gato System.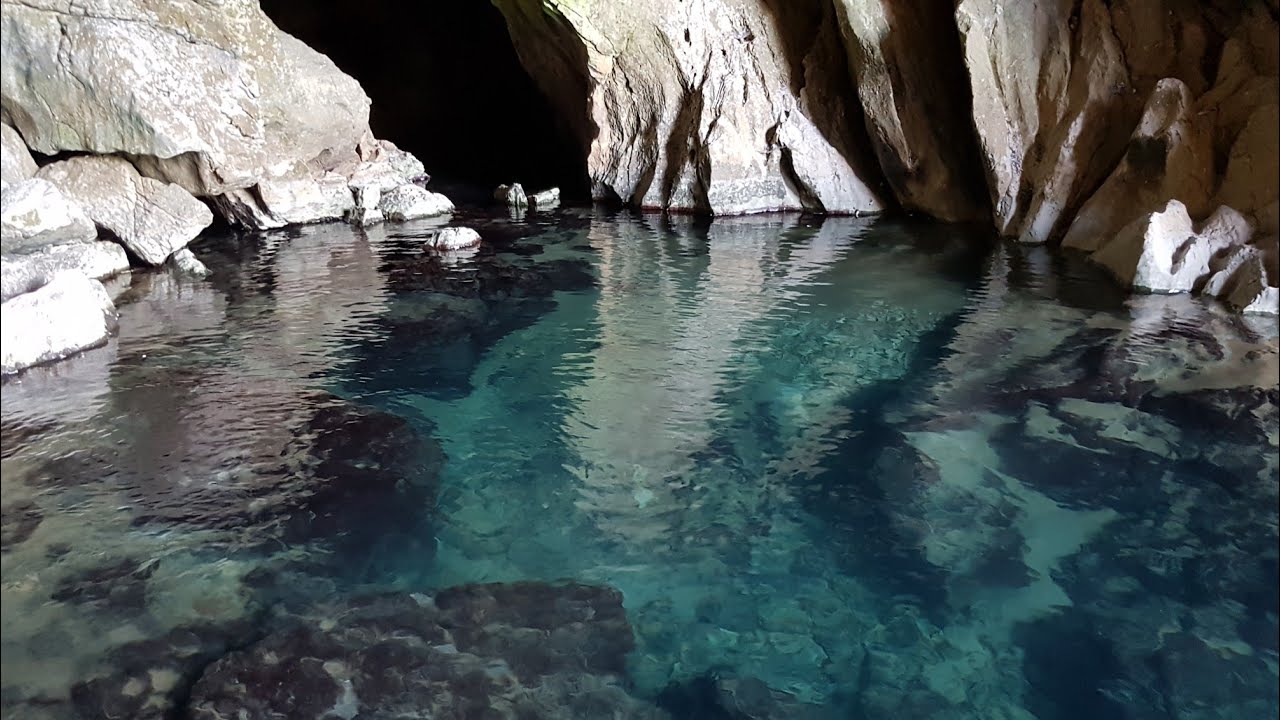 An Oasis of Life and Culture Inside the Cave
In addition to its impressive natural beauty, Cueva del Gato houses treasures dating back to ancient times. Inside, you'll find one of the largest sedentary colonies of cave bats, as well as important cave paintings and material remains from the Neolithic period. This valuable cultural heritage has led to its declaration as a Site of Cultural Interest (BIC), protecting its historical and archaeological value.
Enjoy a Picnic and Refreshing Bath in Nature
The surrounding area of the cave justifies the visit, and what better place to relax than in the shade of the trees growing along the riverbank, next to the crystal-clear waters of the cold pool.
Here ends the hiking route from Benaoján Train Station to Cueva del Gato, as there is a staircase carved into the rock that leads to the cave entrance, but right there we find a sign indicating the prohibition to continue due to the danger involved. Only with authorization and expert knowledge would it be possible to proceed.
Important Reminder: Visit with Authorization
If you're interested in visiting Cueva del Gato, it is vital to note that unauthorized entry is prohibited. To preserve its fragility and ensure visitor safety, obtaining the corresponding authorization is necessary before entering.
Follow the established rules and enjoy this wonderful natural treasure responsibly and respectfully.
Recommendations and Important Considerations for the Benaoján Train Station Hiking Route
Before embarking on this route, it is important to consider some recommendations:
Ensure you wear appropriate walking and water shoes, sunscreen, and bring water and food for a picnic.
Respect the prohibition of entering Cueva del Gato without authorization.
Check the regulations of the natural park to see if pets are allowed and if they must be leashed.
Maintain a respectful behavior towards the natural environment and do not leave any trash behind.
If you're going with children, closely supervise them and ensure they follow safety guidelines.
How to get to Benaoján Station?
To get to Benaoján Station, you can follow these directions:
By train:

If you are in the city of Málaga, you can take a train from Málaga-María Zambrano Station.
From Málaga-María Zambrano Station, take a train towards Benaoján Station. Make sure to check the schedules and availability of trains heading to that station.
The train journey from Málaga to Benaoján usually takes about 1 hour, but this may vary depending on the type of train and the frequency of stops.
Once you arrive at Benaoján Station, you can start your hiking route to Cueva del Gato.

By car:

Follow the directions on Google Maps: here.
DON'T MISS THIS EXCITING HIKING ROUTE TO CUEVA DEL GATO IN THE GUADIARO RIVER VALLEY!